Best bakeries in New York
Croissants, macarons and other irresistible treats.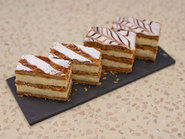 Pierre Hermé acolyte Olivier Dessyn, who fell in love with New York City during a vacation here, moved from Paris and opened this humble shop in Greenwich Village. Inspired by NYU's Elmer Holmes Bobst Library across the street, Dessyn named his patisserie after the mille-feuille, a layered dessert ($3.90) that reminded the toque of a book on its side. The baked goods are all traditional French­—macarons ($2.25), cheese brioche ($2.90) and chocolate sables  ($2.50)—but the real standout is Dessyn's croissant ($2.75). The iconic crescent-shaped delicacy ranks among the city's best: The crisp, dark-brown shell shatters on the first bite, revealing stretchable layers of silky, buttery pastry.